HOME PAGE
You Can Prevent Blindness!
Just one person can make this world a better place. You can make a difference in countries where eye care for failing sight is more than a gift - it is a miracle! You can be part of this miracle!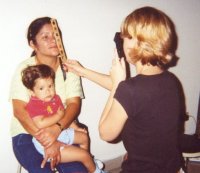 Donate used or new eyeglasses and sunglasses

Volunteer your time

Support vision care costs
The Miracle of Discards
Through Project 20/20, donations of discarded eyeglasses and sunglasses are transformed into a miracle for the poor in regions of the world with little or no public medical care. Donated glasses are cleaned, screened, and packaged for medical and vision care teams traveling to developing countries. Volunteer optometrists and ophthalmologists dispense Project 20/20 glasses with professional eye exams for free to persons in need without discrimination of any kind.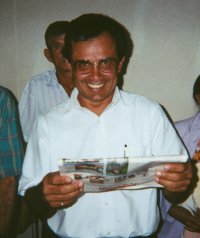 Recycled eyeglasses improve vision when dispensed by professionals free to children and adults in developing countries.
A Farmer in Costa Rica Is Delighted to Be Able To Read Again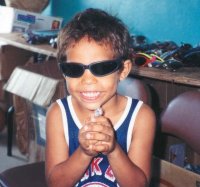 Recycled sunglasses prevent blindness from eye diseases caused by intense sunlight, wind, or dust in tropical and high altitude countries.
A Boy in Belize Is Excited To Receive Sunglasses
The Results? Over 1,000 Persons Helped Each Year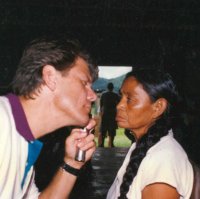 From its beginning in 1993 through calendar year 2007, Project 20/20 has helped over 27,000 children and adults receive the gift of better sight at no cost to the patients! Without this program, those persons would not be able to see well at all. In fact, many could have lost their sight forever without the intervention of professional eye care. Since 1993, over 100 volunteer medical teams have contributed free vision care in over 20 countries on four continents. (See Teams and Results)
Project 20/20 also helped prevent blindness by distributing free sunglasses to over 28,000 children and adults. The sunglasses protect eyes from diseases caused by intense wind, dust, and ultra-violet light in tropical and high altitude countries.
How You Can Improve Lives
You can easily be a part of this human service program. As an individual or as a member of a church or community group, you can prevent blindness! All contributions of time, eyeglasses, sunglasses, and funds will prevent blindness and improve vision around the world.
Volunteer Your Time and Creativity
Help Project 20/20, the Lions Club, or other service organizations to help others. Your energy and abilities can increase opportunities for those groups to serve persons in need.
You may be able to help the program collect discarded or unused glasses. By sharing information about this program, you may influence others to prevent blindness. You may find ways to contribute your unique talents and ideas to support human service projects. Whatever you do to help will improve lives!
Send Glasses Directly to Project 20/20
If you or any of your friends can find old eyeglasses or sunglasses that are no longer used, you can mail them directly to the Project 20/20 Eyeglasses Recycling Center in Memphis. Typically, the glasses will be processed and used to improve someone's vision within the next six months. Send the glasses to this address:
Project 20/20 Eyeglasses Recycling Center
Emmanuel United Methodist Church
2404 Kirby Road
Memphis, TN 38119
(901) 754-6548
You may also drop off donations of glasses to local sites identified on this list:
Donation Box Locations
. The list will be expanded as more sites choose to be listed through this website.
Donate Funds to Project 20/20
You can improve a life through financial contributions. For a total cost of around $5,000 per year, Project 20/20 improves the vision of approximately 2,000 persons and sponsors optometry students on medical teams. Half of the financial donations cover operational costs (supplies, printing, shipping), and half sends optometry students on medical teams. No funds are ever spent on salaries. All work is done by volunteers.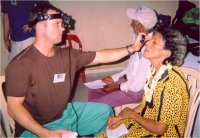 The funds spent on optometry students are considered great investments in human service. Only $800-$1,000 is required to send an advanced optometry student on a week-long summer medical team trip along with faculty from the Southern College of Optometry in Memphis. That student will provide between 100 and 150 persons with supervised professional eye exams and glasses. On the average, every $5.00 donated toward optometry students will improve the vision of one person who otherwise might never receive professional eye care. Additionally, that optometry student will experience extreme human needs and eye pathologies in developing countries. This often results in a lifetime commitment to conduct humanitarian aid wherever needed.
All financial donations to Project 20/20 are federal tax deductable as the donation is made to Project 20/20's sponsor, the United Methodist Church. No goods or services are provided in return for the gift. As an all-volunteer program, all donated funds are used to provide medical teams with materials and support for preventing blindness and improving vision among the poor in underdeveloped areas of the world.
If you or your church wishes to contribute funds, please write a check payable to: UNITED METHODIST CHURCH FOR PROJECT 20/20. Send the check to this address:
Project 20/20
Emmanuel United Methodist Church
2404 Kirby Road
Memphis, TN 38119
(901) 754-6548
If your church is a member of the Memphis Conference of the United Methodist Church, please send the church check directly to the Conference Treasurer address listed on the
Contact Us
page.
Thank You!
No matter what you do, lives will be improved.